HANNIBAL RISING: Cheap Slasher Flick
HANNIBAL RISING (thriller)
Cast: Gaspard Ulliel, Gong Li, Dominic West and Rhys Ifans
Director: Peter Webber
Time: 108 mins
Rating: * * (out of 4)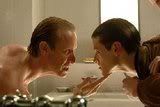 WHAT'S THE BIG DEAL? Let's face it. Whenever we talk of the criminal genius, Anthony Hopkins' Hannibal Lecter always springs to mind. Hopkins has made Hannibal into such a deliciously enigmatic 'gentleman serial killer' that he is etched in our minds as the iconic villain. Why, Hopkins even upstaged poor Jodie Foster in "Silence Of The Lambs" – and spawned two sequels, "Hannibal" (2001) and "Red Dragon" (2002).
Now, here is a movie about Hannibal Lecter WITHOUT Hopkins – and you can figure out what it is up against, especially the huge audience expectations it has to fulfil. Granted that "Hannibal Rising" is an 'origin story' about Hannibal's childhood and his formative years, Hopkins could not have taken on the role even if the producers had wanted him to. Expectedly, this effort by Peter Webber can only go down the way of 'Limbo Rock' (how low can you go?) – especially with a wooden Gaspard Ulliel in the title role…

WHAT'S IT ABOUT? The movie opens promisingly with the Lecter family getting caught in the war in Eastern Europe in 1944. Young Hannibal (Aaron Thomas) and his sister Mischa (Helena Lia Tachovska) watch helplessly as their parents are killed in a battle between a Nazi air-plane and a Russian tank. Later, the siblings are captured by a gang of vicious Lithuanian looters who decide to have Mischa for dinner. Of course, these events traumatise the boy, and eight years later, when Hannibal (Ulliel) goes to Paris to live with his uncle's widow, Lady Murasaki (Gong Li), he develops a taste for blood and revenge. In a way, Murasaki helps to hone his 'carving skills' – teaching him the use of her samurai sword and the Japanese tradition of chopping off heads of the enemies.
From here on "Hannibal Rising" starts sinking into cheap slasher territory that not only demystifies the Lecter legend, but also turns it into a laughing stock. First off is the head of the local butcher who has racially insulted Murasaki. At this point, our 'hero' has not yet developed the taste of Chianti to go with human meat, but not to worry. There are lots more to come – as Hannibal goes after each of the Lithuanian thugs who had consumed his sister.

HIGHLIGHTS & LOWLIGHTS: With such a lame script (from the critically-roasted novel by Thomas Harris who also did the screenplay), we would expect a compromise in the cast's performance. No such luck, though. You would get better acting from a ventriloquist's dummy than from Ulliel. Dominic West, who plays the investigating French Inspector Popil, has such pedestrian dialogue that he can do nothing to enhance the action. Thank goodness for Gong Li, who helps to add exotic spice to the proceedings. There is a hint of some sexual liaison between Hannibal and her Murasaki but this is not developed. Gong Li remains eye-candy in an otherwise bland and dark film.

THE LOWDOWN: Hopkins has made Hannibal into such a charismatic genius that "Hannibal Rising" may present fans of the iconic villain a problem: How to erase such a disappointing movie from their minds so that they can still relish the memory of his exploits. Get themselves sloshed on Chianti and red meat, perhaps?