MUKHSIN: A Tribute to First Love
MUKHSIN (local drama in Malay)
Cast: Mohd Syafie Naswip, Sharifah Aryana, Irwan Iskandar and Sharifah Aleya
Director: Yasmin Ahmad
Time: 93 mins
Rating: * * * (out of 4)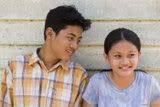 WHAT'S THE BIG DEAL? Film-maker Yasmin Ahmad continues her satire on Malaysian life in this prequel to "Sepet" and "Gubra". "Mukhsin" deals with 10-year-old Orked's first love – plus the usual delightful and delectable takes on life and love in a not-so-typical Malaysian kampung (a village near Kuala Selangor).
While "Mukhsin" is not as engaging as the ground-breaking "Sepet" (2004), it is more charming and accessible than last year's "Gubra" – displaying all the strengths and quirkiness of Yasmin Ahmad, as well as some of her weaknesses.

WHAT'S IT ABOUT? "Mukhsin" opens with a neat introduction to Orked's (Sharifah Aryana) character: She is self-confident, writes essays that even her teacher looks forward to reading, and a tomboy who readily stands up to the school bullies. We also get a look at Oked's loving parents, Pak Atan (Irwan Iskandar) and Mak Inom (Sharifah Aleya, the real-life sister of Aryana) who, we are given to understand, are modelled after Yasmin's own parents. And of course, their housemaid Kak Yam (Adibah Noor) who abets in the family's exploits, provides comic relief and helps to 'iron out' the loose ends in the plot.
Enter Mukhsin (Mohd Syafie Naswip), a 12-year-old boy who is sent to the kampung to live with his aunt for the school holidays. Mukhsin first sees Orked when she is dancing in the rain with her mother. When he is introduced to her at a rough-and-tumble game with the boys, he develops enough respect and liking for her to ask her out on bicycle rides and other dates. In kampung tradition, when a boy 'borrows' his brother's best shirt and plasters his hair with globs of gel just to go kite-flying, he is considered smitten by love. Ultimately, some misunderstanding occurs to throw the proverbial spanner in their relationship, culminating in a heartbreak sequence that should bring tears to our eyes…

HIGHLIGHTS & LOWLIGHTS: Yasmin is a maverick at 'quirky comedy' and here we laugh at the disarming way she 'paints' her characters. The kampung boys are wary of playing with Orked not because she is a girl but because she 'main kasar' (plays rough). Another delight is the way Mak Inom 'punishes' Orked over a row with the school bully. And with commendable performances by the young leads, and catchy songs like a joget number and Nina Simone's catchy French tune thrown in, the scenes resonate with fun and heart-warming sentiments.
The subplots, however, deviate from the movie's idyllic set-up and make the narrative flow murky, especially in the middle of the film. Yasmin's 'commentary' on marital relationships has a subplot on Orked's Casanova of a neighbour and his long-suffering wife, and another on Mukhsin's dysfunctional family that includes a problematic, wayward brother. Juxtaposed against Atan and Imon's lovey-dovey life together, the subplots show the 'darker' side of kampung life that Yasmin fails to develop further.
No Yasmin Ahmad movie is complete without a 'controversial' sequence, and here, we have the offbeat cameos by Sharifah Amani and Ng Choo Seong (from "Sepet"), playing a couple that seems to have come out of a time-warp (given that Ng's character had been killed but gets 'recalled for duty' here and in "Gubra").

THE LOWDOWN: Yasmin has dedicated this movie to her parents -- and we see them singing their own composition at the closing credits, together the film crew. Perhaps this is to remind us that we should take the movie for what it is intended to be – a funky fun ride in memory of our first love or infatuation.