CHERMIN: Ghost in the Mirror Caper
CHERMIN (local horror thriller in Malay)
Cast: Deanna Yusoff, Natasha Hudson, Kathijah Tan and Farid Kamil
Director: Zarina Abdullah
Time: 90 mins
Rating: * * ½ (out of 4)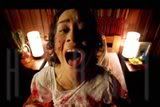 WHAT'S THE BIG DEAL? From the onset, it is clear that "Chermin" is reflective of the Malaysia Boleh spirit -- that they can make a 'beautiful and classy' horror movie without having to spend big bucks. Well, they have succeeded in many aspects although the movie is in need of a better treatment.

WHAT'S IT ABOUT? "Chermin" deals with a young woman's quest for beauty which she seeks through the ghost of a woman (said to be her great-grandma) trapped in an antique mirror (chermin). When Nasrin's (newcomer Natasha Hudson) face is disfigured in a road accident, she succumbs to the mystic powers of Mastura (Deanna Yusoff) who demands blood in her quest for revenge.
Mastura, we are told in flashbacks, was once the most beautiful woman in the village. She was involved in an arranged marriage to Hassan but for some reason, her love was unrequited and Hassan took a second wife, blaming her for being childless. A woman spurned, Mastura resorted to delving in black magic with her mirror...

HIGHLIGHTS & LOWLIGHTS: This ghost-in-the-mirror plot is nothing new, especially in the Asian horror genre. What is new here is the treatment writer-director Zarina Abdullah gives to her theme about Nasrin's quest to regain her beauty. The scar on her face (which changes shape in various scenes) could easily have been treated with plastic surgery but she is so caught up by Mastura's spirit -- and later by her evil power -- that she succumbs to it. An interesting plot device but rather confusing in its execution. However, Natasha's portrayal of Nasrin, as a 'difficult' and demanding fiancee to Yusuf (Farid Kamil), denies her of audience sympathy and when we stop caring for her, her protagonist gets relegated to the narrative limbo.
Kathijah Tan, as her anxious mother, is more convincing although she tends to overact with her eyes sometimes. Still, she helps to enhance the kampung atmosphere and lends solid support to the main cast -- together with the extras who play the village gossips. Deanna Yusuf, expectedly, is stunning to look at but again, we feel nothing for her as the pretty ghost with that irritatingly eerie laugh.
Kudos to Zarina for adding a few touches of humour, especially in that scene with the kampung headman. Considering the budget, the special effects are minimal but effective, given that Zarina has opted for subtle scares instead of 'loud', gory ones. The bloody exorcism sequence reminds us of Linda Blair's in "The Exorcist" but it lacks tension and suspense.

THE LOWDOWN: "Chermin" is undoubtedly a good effort by another promising woman director. We look forward to more from her.