TURNING PAGES: Arthouse Thriller
TURNING PAGES aka THE PAGE TURNER (drama)
Cast: Deborah Francois, Catherine Frot, Pascal Greggory and Julie Richalet
Director: Denis Dercourt
Time: 88 mins
Rating: * * 1/2 (out of 4)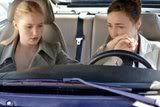 WHAT'S THE BIG DEAL? A 'page-turner' is someone who sits beside a pianist (or other musician) and turns the pages of the music score at the appropriate time. This may be a minor role but a little mistake on the page-turner's part can cause a major hiccup in a concert performance.

WHAT'S IT ABOUT? This French thriller by Denis Dercourt is about what happens when a page-turner wreaks vengeance on someone who had destroyed her passion for the piano. Melanie Prouvost (Julie Richalet), the daughter of a butcher, is a self-absorbed 10-year-old who plans to be a concert pianist. She trains hard for a conservatory exam but when the chief examiner, Ariane Fouchecourt (Catherine Frot), distracts her from her performance, she gives up the piano for good.
Years later, we find Melanie (now played by Deborah Francois) working as an intern at a law firm. Coincidentally or not, her boss happens to be Jean Fouchecourt (Pascal Greggory), the husband of the uncaring chief examiner, Ariane. One thing leads to another and Melanie finds herself volunteering as a nanny in the Fouchecourt mansion, helping to tutor their son, Tristan (Antoine Martynciow), and later offering her services as page-turner for Ariane, who is also a concert pianist.
From her vengeful attitude and chameleon-like expressions, we know that Melanie has something sinister planned for highly-strung employer – despite Ariane's kindness and dependence on her. Now, how is Melanie going to 'turn the tables' on her boss?

HIGHLIGHTS & LOWLIGHTS: "Turning Pages" is partly an art-movie and partly a psychological thriller set along the lines of Alfred Hitchcock's "Rebecca". Writer-director Dercourt keeps the atmosphere at the Fouchecourt household looking 'normal' while allowing a sense of class-envy and conspiracy to simmer in the background. Every time Melanie moves about along the lonely corridors of the mansion, we sense that something is afoot, but we cannot be sure what she is plotting against her unsuspecting boss.
An incident involving Tristan at the indoor swimming pool turns out to be a red herring; and a groping incident gets covered-up rather quickly. However, when Melanie's coup de grace is unravelled at the end, it turns out to be somewhat of a letdown. Granted, it is a subtle and clever plot trick but it lacks the dramatic impact that would have made this a memorable movie.
The cast, especially Frot and Francois, are both effective and impressive. Francois, whose facial expressions can suggest calm and menace at the same time, evokes tension every time she is onscreen, while Frot is suitably pathetic as her victim. Dercourt has also included a catchy classical score to accompany the drama – and this should delight music lovers.

THE LOWDOWN: "Turning Pages" is not for the action movie fan, but it is engaging enough as a revenge drama – and its lead star, Deborah Francois, would definitely turn heads on any street.