WEEKEND PIC -- March 30 to April 1
Your Guide To The Weekend Viewing

1. PERFUME: The Story Of A Murderer (psychological thriller with Ben Whishaw, Dustin Hoffman and Alan Rickman) Rated: * * * (out of 4): A dark, brooding and macabre tale about a man who kills young girls just to get that perfect 'essense' for the ultimate perfume. Not everybody's cup of tea, though.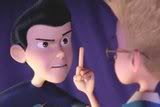 2. MEET THE ROBINSONS (animated futuristic adventure voiced by Angela Bassett, Tom Selleck, Harland Williams, Laurie Metcalf) Rating * * 1/2: An animated kiddie-styled "Back To The Future" adventure with a sprinkling of "The Matrix" and "Terminator". It is about an orphan named Lewis who gets whisked off to the future by a 'Wilbur Robinson'.

3. JUST FOLLOW LAW (Singapore's fantasy comedy with Gurmit Singh and Fann Wong) Rated: * * * (Out of 4): Somewhat like "Freaky Friday", this is Jack Neo's satire on office politics, with Singh and Wong 'exchanging' bodies.

4. Mr. BEAN'S HOLIDAY (comedy with Rowan Atkinson and Willem Dafoe) Rated: * * ½ (2.5 stars): Mr Bean wins a trip to Cannes and we get the usual infantile antics about him being mistaken for a kidnapper. For those who still find Atkinson funny.

5. CHERMIN (local thriller in Malay with Deanna Yusoff and Natasha Hudson) Rated: * * ½ (2.5 stars): The plot, about a vengeful spirit trapped in a mirror, is cliched and predictable but its message about one's quest for beauty is interesting. The scares are derivative, smacking of "The Exorcist".

6. FOREST OF DEATH (horror thriller in Cantonese with Shu Qi and Ekin Cheng) Rated: * 1/2 (1.5 star): Just two words for those thinking of giving this flick a try -- Forget It!