LAKE HOUSE: Romance on Time Matrix
THE LAKE HOUSE (fantasy romance)
Cast: Keanu Reeves, Sandra Bullock and Christopher Plummer
Director: Alejandro Agresti
Time: 108 mins
Rating: * * ½ (out of 4)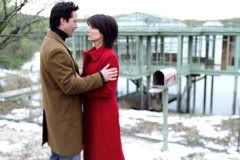 WHAT'S IT ABOUT? It takes them 12 years -- and apparently lots of messages – but two of Hollywood's most popular heartthrobs of the Nineties are reunited at last. I am talking about Keanu Reeves and Sandra Bullock of Speed fame. And if you are wondering why I am starting the review like this, it is because the two are separated in time in this whimsical love story that is fuelled only by their charm and box-office appeal.
When Dr Kate Forster (Bullock) moves out of her glass house over a lake near Chicago, she leaves a note to the next tenant requesting that her mail be forwarded to her new address. Alex (Reeves) gets the note and discovers something weird: No one has lived in that house for years! Then a dog suddenly appears and the two soon discover that they have been living in the same area -- two years apart. He is in 2004 and she is in 2006. They communicate via a mailbox outside the Lake House which magically transmits their messages.

WHAT'S THE BIG DEAL? Now, I don't know about you, but if I were caught in such a situation, I would have been scared out of my wits. I would want answers and I would search the archives and Internet for them. I would also expect the guy in 2004 to ask the gal in 2006 for stock market tips, etc. Kate and Alex, however, do no such thing. Instead, they revel in their newfound love for each other and she even seeks his help to find a lost book.

HIGHLIGHTS: There are nice distractions in the subplots, though. Christopher Plummer, who plays Alex's old man, provides an explanatory background to Alex's character while Willeke van Ammelrooy does the same for Kate as her caring mom. Dylan Walsh acquits himself amicably as Kate's inadequate fiancé, and Lynn Collins plays Alex's co-worker who has the hots for him. It is just too bad that the dog gets more attention from the audience.


LOWLIGHTS: The Lake House, based on a 2000 South Korean film titled "Il Mare", is about 'second chances' that Fate sometimes dishes out to lovers. Think 'Meeting Mr Congeniality on the Time Matrix' and you will get the idea. As a time-travel story, its plot is so full of holes that you can't even begin to piece them together. Suffice it is to say that the only thing that works here is the chemistry between the two leads, aided in no small measure by a dog named Jack.

LOWDOWN: Indeed, it is nice to see Bullock back in Reeves' arms again. They look real comfy together but I wish they had something better in the form of script – just to sink their lips in.