TAKE THE LEAD: Zorro Rides Again!
TAKE THE LEAD (dance comedy)
Cast: Antonio Banderas, Alfre Goodard, Rob Brown and Yaya DaCosta
Director: Liz Friedlander
Time: 107 mins
Rating: * * 1/2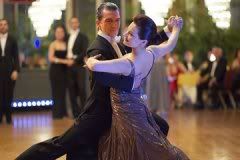 WHAT'S IT ABOUT? El Zorro (Banderas) rides again! This time around, he is galloping on his trusty bicycle and trying to save the wayward kids of a New York City school from rotting in detention class. I jest… Banderas is not the masked swashbuckler here. He plays Pierre Dulaine, a ballroom dancing instructor who somehow decides to buck the system and teach a bunch of no-hope street kids BALLROOM Dancing! Now, if that sounds incredulous, take heed that this movie is based on the real-life 'adventures' of Dulaine himself!

WHAT'S THE BIG DEAL? The usual dance movie routine applies. At first, the students, like Rock (Brown) and Lahrette (DaCosta) laugh at and spurn Dulaine's attempts at teaching them to waltz and foxtrot. Most of them go for hip-hop. Then the suave Banderas charm kicks in and, as expected, we have the youngsters – and even the school principal (Woodard) – eating out of his hand. If you thought the Zorro series is a fairy-tale, this one is gonna make your eyes roll even more.

HIGHLIGHTS: First-time director Friedlander applies her music video smarts to give us some twists and surprises, and even a few laughs. She cuts her scenes abruptly and includes subplots on the lives of the youths (like Rock and Lahrette being sworn enemies after the death of their siblings) to flesh out the characters, and appeal to the young viewers. The young cast acquit themselves pretty well here, especially DaCosta, and Dante Brasco as Ramos.

LOWLIGHTS: This is supposed to be an inspirational flick but I don't see anything inspiring in the clichéd script. Even the dancing sequences fall flat – until the ending credits where street-dancing merges with Ballroom. Also, the subplot that hints at the widowed Dulaine's love interest is left undeveloped. Okay, this is based on a true story but the idea of ballroom dancing being used to redeem the dregs of inner-city school kids still sounds rather preposterous to me.

THE LOWDOWN? This is not Strictly Ballroom. Remixed Ballroom, perhaps.