RV: Adventures of A Rolling Turd
RV (for Recreational Vehicle)
Cast: Robin Williams, Cheryl Hines, Joanna 'JoJo' Levescue, Josh Hutcherson, Jeff Daniels
Director: Barry Sonnenfeld
Time: 95 mins
Rating: * *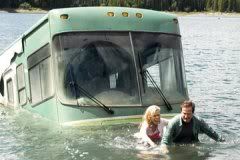 WHAT'S IT ABOUT? In order to keep his job, Bob Munro (Williams) is forced to cancel his family vacation to Hawaii and substitute it with a road trip to Colorado. His wife Jamie (Hines), daughter Cassie (Levescue), and son Carl (Hutcherson) would prefer to stay home but Bob sees this as his only chance to bond with his loved ones. The plan is to travel in a rented RV bus so that he can meet up with his clients and bosses to make a vital presentation. Of course, a series of minor disasters occur and they even meet up with an annoyingly sweet family called the Gornickes.

WHAT'S THE BIG DEAL? It looks like another National Lampoon's Vacation, this time around with Robin Williams who seems to be working with a toned-down script. As the family gets on the road, the trip gets to be more of a torture than fun for both the characters and viewers. The Munros name the bus 'The Rolling Turd' and sure enough, we get a lot of excreta flying all over the place. Like, if you can make 'em laugh, throw sh*t around!

HIGHLIGHTS: We may get a few laughs when the Munros encounter the Gornickes, especially with Kristin Chenoweth's portrayal of a born-again Christian wife. Singer Jojo provides eye-candy but does little to improve her resume as an actress.

LOWLIGHTS: Very few gags work here and some unfunny ones – like Williams wrestling with his seat belt – are even repeated. Screenwriter Geoff Rodkey, who gave us feeble stuff like The Shaggy Dog and Daddy Day Care, continues to prop up his reputation of mediocre scripting. And he takes the safe route by closing with a feel-good ending.

THE LOWDOWN? I can think of many, many ways to spend a vacation – without something called The Rolling Turd.