CARS: This 'auto' delight the whole family
CARS (animated comedy)
Voices of Owen Wilson, Bonnie Hunt, Cheeh Marin and Paul Newman
Director: John Lasseter
Time: 114 mins
Rating: * * *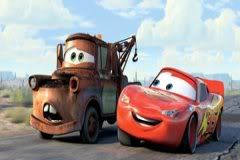 WHAT'S IT ABOUT? Set in the world of automobiles, this Pixar caper is about a hotshot racing car called Lightning McQueen (voice of Owen Wilson) who finds himself 'stuck' in the sleepy town of Radiator Springs en route to the big Piston Cup race. There, he meets a battered tow-truck named Mater ((Larry the Cable Guy), a snazzy Porche called Sally Carrera (Bonnie Hunt) and a wise old 1951 Hudson Hornet (Paul Newman) and learns that life is really all about friendship and caring ­-- and not just the finish line.

WHAT'S THE BIG DEAL? Unlike in the world of Toys, Bugs, fish and Incredible superheroes, it takes us a while to get used to this 'new' world of cars, trucks and tractors. However, as soon as our hero McQueen gets to Radiator Springs, we start empathizing with him and his feelings of frustration and urgency as he is 'prevented' from getting to that all-important race.
Here, the auto world 'comes to life' as the machines take on the characteristics of human townsfolk.

HIGHLIGHTS: The all-star voice cast have done a lot to add the human dimension to the 'car-acters' and we start to forget that they are cartoon vehicles. Car-acters like Mater, Sally and even the Italian tyre-shop owner Luigi (Tony Shalhoub) are nicely developed and there is even a background mystery to Doc Hudson's past. Also, there is a bit of American road nostalgia about the famous Route 66, the artery that connected the North to the South and the East to the West. For F1 fans, listen out for the vocal performances of racing legends like Mario Andretti, Dale Earnhardt and Michael Schumacher.

LOWLIGHTS: The story is rather familiar and the going tends to drag a bit at 115 minutes long. Some of the dialogue lines turn out awkward, too.

THE LOWDOWN? A feel-good movie that 'auto' delight families and anyone who has ever gone behind the wheel.