GUBRA: Flawed but Still Compelling
GUBRA
(social drama)
Time: 113 mins
Rating: * * *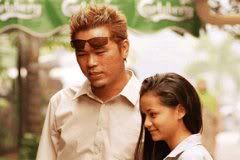 GUBRA, Yasmin Ahmad's much-touted sequel to Sepet, is a rather heavyweight social drama that tries to cover too many themes and issues. Yes, writer-director Yasmin has lightened the movie with many comic-relief sequences — and it is engaging and delightful most of the time. However, we can't help feeling that Yasmin has bitten off more than she can chew here — unlike the more cohesive story that is Sepet.

In Gubra (which means anxiety), we have two main plots: The continuation of Orked's story and a parallel one about a Pak Bilal (Shahili Abdan or Namron) and two prostitutes who are his neighbours. Orked's (Sharifah Amani Al-Yahya) story picks up seven years after her affair with Jason (Ng Choo Seong). She is now married to Arif (Adlin Aman Ramlie) but their seemingly happy relationship shows signs of strain when she stumbles upon Alan Lee (Alan Yun), Jason's older brother, at the hospital where her father (Harith Iskander Musa) is warded for diabetic complications.

Alan is at the hospital to visit his father (Thor Kah Hoong) and after the requisite 'meet cute' sequence, Orked and Alan take off to town on their 'first date'. This turns out to be rather traumatic for Orked when she finds Arif with another woman at a restaurant. She discovers that he has been cheating on her — and the proverbial hell breaks loose. Will Orked, the epitome of the modern Malay woman, forgive her hubby for this transgression?

Juxtaposed against this are several other relationships — that of Orked's parents whose bond is incredibly strong; that of Alan's Pa and Ma who never seem to have a kind word for each other; and a budding one between Orked's maid Kak Yam (Adibah Noor) and a hospital assistant. The first two, which continue from Sepet, are repetitive and undeveloped, while the Kak Yam subplot is played mainly for laughs.

The second plot, about the Pak Bilal (or muezzin) and prostitutes Temah (Rozie Rashid) and Kiah (Juliana Ibrahim), are more complicated and we suspect that this is more of a device for Yasmin to expound on her social issues. Unlike common perceptions of Muslim clerics as stern and serious folks, the Pak Billal and his wife Kak Maz are a jovial couple who tease each other daily. When Temah and Kiah find themselves in trouble, they turn to Kak Maz for help to seek forgiveness from God.

Yasmin also tries to inject a bit of tension here — when an ex-lover of Temah appears and tries to steal from her to pay off some loan sharks. This sequence, however, remains lacklustre because Yasmin films the proceedings from behind a wall, a'la Wong Kar-wai's In The Mood For Love.

In the acting department, the whole cast is impeccable, especially Amani who is captivating even she she is running about dishevelled. As a sequel, Gubra is compelling especially to fans of that gem called Sepet. And as is usual of Yasmin's films, she ends Gubra with a controversial 'dream' sequence after the credits.