WEDDING DATE: Grossly Delayed
THE WEDDING DATE (romantic comedy)
Cast: Debra Messing, Dermot Mulroney, Amy Adams and Jack Davenport
Director: Clare Kilner
Time: 75 mins
Rating: * * (out of 4)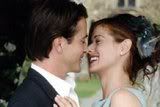 FIRST, let's start the review with a little trivia: This 2005 romantic-comedy is Dermot Mulroney's second wedding movie – after the 1997 "My Best Friend's Wedding" where he played the groom. During location shooting, the film-makers had to use artificial flowers as much as possible because Debra Messing is allergic to real flowers. The movie's running time, officially listed at 85 minutes, clocked in at only 73 minutes at the preview at Cathay Cineplex Damansara on 27 December.

WHAT'S IT ABOUT? My listing of trivia above is not to explain or to excuse the disappointment I got from watching this Messing-Mulroney vehicle. One gets the feeling of being short-changed even at the start of the movie when we see Kat Ellis (Messing) preparing to fly from New York to London. She 'reluctantly' sends the air tickets by courier to a male escort (Mulroney as Nick Mercer) she has hired for US$6,000 to accompany her to her sister's wedding.
Then director Clare Kilner plunges us right into the thick of the plot without bothering to introduce the lead characters. Maybe she will do so as the movie progresses. Well, she does that, but in spurts and sputters – taking for granted that we would expect Kat and Nick to fall in love, that Nick's charms will bowl us over (as he does all of Kat's girl friends) and that we will be so carried away by the plot twists and turns that we will overlook this 'little flaw'.

HIGHLIGHTS, LOWLIGHTS: Brevity may be the soul of wit but not where building a sense of romance is concerned. The romantic relationship between the two seems to have been plucked out of thin air. One moment, Kat is coy about sleeping on the same bed as Nick, and next, we see them shacking up for the night in a houseboat!
Granted that Kat is drunk and clueless about what had transpired that 'fateful' night, but we can't help wondering what she has been doing, staying single all these years in a city like New York! There is nothing in the way of flashbacks to give us an idea of her lifestyle in NY, and also very little in terms of comedy in this rather formulaic movie. The only funny sequence is when a naked Nick parades himself to Kat in the bathroom – with Kat trying hard not to focus her eyes on the strategic part of his anatomy. The wedding eve sequences work like a TV soap opera while the wedding scenes turn out predictably farcical.
Kilner's strategy seems to be pairing up Messing and Mulroney and expecting us to accept the inevitable. Sure, the two leads are pretty attractive. However, they are not a romantic or even a funny couple. Something needs to be done to generate these two qualities and this is where Kilner and her scripters fail miserably. Other than a couple of witty lines, there is nothing much for us to laugh about.
The supporting cast are competent enough, with Jeremy Sheffield providing the 'hissable' factor as the two-timing Jeffrey; Amy Adams going spot-on as Kat's spoilt-brat sister Amy, and Peter Egan and Holland Taylor as her upper-middle class parents. "The Wedding Date" is adapted from Elizabeth Young's novel, Asking For Trouble. Now, if only the film-makers had taken the trouble to generate something new and refreshing.

THE LOWDOWN: And to end the review, here's another 'trivia': the release of "Wedding Date" was held back when the opening of Cathay Cineplex Damansara was delayed. The movie is showing on Star Movies of Astro this January 2007!