'Cicakman' climbs local box-office ceiling
Local CGI-enhanced Flick grosses RM2 million in First Week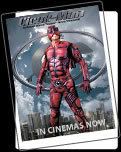 December 15 - Local comedy and CGI extravaganza "Cicakman" has hit the Malaysian box-office ceiling right after its first week of release, grossing over RM2 million. It collected a record RM350,000 (with 47,116 patrons) on its opening day on Dec 7.

These figures easily mark the biggest opening for a local movie this year, ahead of the next local favourite, "Cinta". The movie's producers, KRU Films, expects it to surpass RM3.5 million on its second week, considering the strong word-of-mouth among youths during the current school holidays.

KRU Films' administration executive Sara Sa'ary said that "Cicakman" grossed RM1.6 million in the first four days (the first weekend) and surpassed the RM2 million mark in the first week. It played on 39 screens nationwide (including Sabah and Sarawak). "We expect 'Cicakman' to stay in the cinemas for at least a month," said Sara, adding that the movie, directed by Yusry Abdul Halim, cost RM1.7 million to produce. KRU Films, meanwhile, is holding road shows with Astro and DiGi in the major to promote the movie.

"Cicakman" stars funnyman Saiful Apek as the title character who, by accident, attained the superpowers akin to that of a gecko (house lizard) and finds his life turned upside-down, literally. The movie also features some of Malaysia's most popular stars including Yusry of KRU, Fasha Sandha and Aznil Nawawi. It is the first big budget local movie to incorporate 40 per cent computer graphics and animation, Hollywood-styled stunts and sets.

This feat by "Cicakman" can only augur well for the local movie industry, spurring film-makers on to attempt more daring and experimental movies.

"Cicakman" is currently showing in cinemas nationwide.