The Top 10 Movies of 2006
2006 had its share of blockbusters, remakes and sequels but for me, the most outstanding movies are those with 'original' scripts that have managed to touch our hearts or tickle our fancy. In selecting the Top 10 flicks of 2006, I consider the entertainment value, its impact on the audience, the performances and direction, usually in that order. I have also tried to pick from a variety of genres offered in Malaysian cinemas during the year.
My pick of the Top 10 Movies of 2006: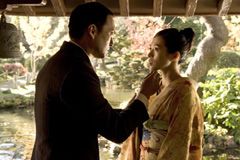 1. Walk The Line: This biopic on the life and loves of country singer Johnny Cash has all the melodramatic gems of the Oscar-winning 'Ray' - plus a number of foot-tapping numbers and great performances from Joaquin Phoenix and Reese Witherspoon.

2. Memoirs Of A Geisha: Director Rob Marshall has done a fine job translating Arthur Golden's 1997 novel on to the big screen. Throw in touching performances by Zhang Ziyi and Gong Li and "Memoirs" sizzles.

3. Riding Alone For Thousands Of Miles: China's maverick director Zhang Zimou may have graduated to bigger budget movies but his 'low-budget' efforts, like this, are the ones that get to the viewer's heart.

4. The Departed: Martin Scorsese's remake of Hong Kong's 'Infernal Affairs' is as violent and riveting as the original. And then there are the high-octane acting by Leonardo DiCaprio, Matt Damon and, of course, Jack Nicholson who steals the show.

5. Electric Shadows: Call it China's version of 'Cinema Paradiso', but this first-time effort by director Xiao Jiang is a nostalgic trip into the cinema of yesteryear with many interesting insights into China's social upheaval.

6. Casino Royale: This new Bond, played by Daniel Craig, should help to make us forget the previous hyped-up versions who seemed to have iced vodka in their veins. Craig gives Bond the red-blooded human touch and we can all feel for him and his perilous quests to save the world.

7. Pride & Prejudice: With Keira Knightley in the lead as Elizabeth Bennet, and Matthew MacFadyen as Darcy, this adaptation of Jane Austen's classic novel is the most audience-friendly yet, and the dialogue sparkles.

8. Eight Below: If the Academy Award judges had a category for animal actors, the dogs in this one would have swept a couple of Oscars. It is amazing how director Frank Marshall manages to get so much 'emotion' from the dozen dogs who play multiple roles in the film.
9. Miami Vice: Director Michael Mann's big screen remake of the famous TV series teems with explosive action and sensual affairs. It was just too bad that the censors had also wanted a few snips of the action.

10. After This Our Exile: This heart-rending story of a boy caught in a domestic nightmare between an abusive father and a runaway mom is a Hong Kong production but it looks very much like a local Malaysian movie, having been shot around Ipoh. Child star Gauw Ian Iskandar generates fantastic chemistry with Aaron Kwok as his father.

(There had been problems accessing this blog the past week after the Taiwan quake, hence this late posting. Sorry for the inconvenience).