NIGHT AT THE MUSEUM (fantasy adventure)
Cast: Ben Stiller, Robin Williams, Carla Gugino, Dick Van Dyke and Mickey Rooney
Director: Shawn Levy
Time: 110 mins
Rating: * * * (out of 4)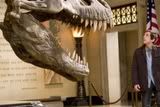 WHAT'S THE BIG DEAL? With such advancements in CGI and stunt work these days, it is no surprise that scripters and directors get tempted to run riot with their creations and forget about the basic stuff like credible story-telling and plausibility. "Night At The Museum" tries to go one-up on "Jumanji" and "Zathura" with its mayhem effects but fails to come up with a proper story. Plot holes abound, so it is a bit messy trying to get around them.

WHAT'S IT ABOUT? When Larry Daley (Stiller) starts work as a night watchman at New York's Natural History Museum, he is all prepared for a good night's rest. However, the retiring former guards (Dick Van Dyke, Mickey Rooney and Bill Cobbs) seem a little suspicious of him, and he soon discovers why: everything in the museum comes to life after dark and Larry has a hair-raising time coping with the ensuing chaos.
Soon he's enlisting Teddy Roosevelt (Robin Williams) to help negotiate peace between a miniature cowboy (Luke Wilson) and a Roman Centurion (Steve Coogan), while Huns and Neanderthals run riot all over the building. Not to mention dinosaurs, lions, monkeys and even a rock carving.
Of course, there's a big conspiracy involving a magical Egyptian artifact, plus a bit of father-son bonding (with Jake Cherry as Nick) and a hint at romance with a museum employee (Carla Gugino).

HIGHLIGHTS: The main thrust of the movie is to entertain (and probably educate) with its historical figures, crazy stunts and situations, but the screenwriters merely rely on tired cliches, repetitive and undeveloped jokes. Larry's caper with a monkey garners a few chuckles but not after it is repeated so often. The cute T-Rex skeleton that plays 'catch' like a dog also provides some fun and laughter, but director Shawn Levy never explains how the characters in the diorama get arrows and fiery missiles for their catapult.
In the acting department, Stiller, Gugino and Williams generally deliver what is expected of them although they are capable of so much more. Also, it is nostalgic to see veterans Mickey Rooney and Dick Van Dyke back on the screen. If only their roles had been better written as well.

LOWLIGHTS: The most glaring flaw, however, is that Levy squanders the chance to properly develop the romance between Larry and his colleague Rebecca (Gugino) and the crush Roosevelt has for a Red Indian squaw (Mizuo Peck as Sacajawea). We are left feeling 'hungry' for more narrative - as opposed to the cinematic chaos heaped upon us.

THE LOWDOWN: You won't ever fall asleep at this "Museum" but you may wish for more in the way of story exposition and credibility.