CLICK: Sandler Gets Controlled
CLICK (fantasy comedy)
Cast: Adam Sandler, Kate Beckinsale, Christopher Walken and David Hasselhoff
Director: Frank Coraci
Time: 105 mins
Rating: * * * (out of 4)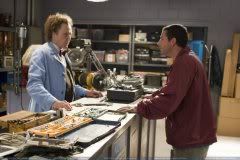 WHAT'S IT ABOUT? Michael Newman (Sandler) is a lot like most modern-day husband and dad. The workaholic architect has little time for his lovely wife (Beckinsale as Donna) and their two children, Ben and Samantha. He is too busy trying to please his arrogant boss (Hasselhoff) and seemingly getting nowhere in his career.
One night, while looking for a universal remote control for his television and electrical gadgets at a store, he meets this mad scientist (Walken) who offers him a magical 'clicker' that not only freezes real-life action, but can also 'fast-forward' the events in his life.
At first, things turns out great for Michael as he is able to control everything at home and at work. However, he soon finds that the clicker is also controlling his life and he is paying a terrible price for it!

WHAT'S THE BIG DEAL? Click is more or less a remake of Charles Dicken's A Christmas Carol in which Sandler's 'Scrooge' discovers the meaning of life and love, and especially about spending time with his family. Directed by Sandler's pal, Frank Coraci (The Wedding Singer and The Waterboy), there is a mix of wonder and fun – and invariably a few tasteless butt gags. Okay, Sandler has toned down a lot on vulgar and crass comedy these days but Coraci feels compelled to let a few through – just to spice things up for the American youngsters.

HIGHLIGHTS: What I like about "Click" is that it is a film with its heart in the right place. Its message – about setting life's priorities – is a universal one not only for men but women of today as well. Also, it is a treat to see Henry 'The Fonz" Winkler and veteran TV star Julie Kavner in cameos as Michael's parents. Walken, meanwhile, seems to be having fun fleshing out the mysterious Morty, while Hasselhoff does a great job of making an ass of himself.

LOWLIGHTS: Many of the gross scenes (butt gags and skin flab sequences) could have been omitted. Another case in point is the repeated joke about the Newman's randy dog. Coraci should have known that butt gags are not funny anymore after the way Jim Carrey 'carried on' with them.

THE LOWDOWN: A PG-13 comedy for the whole family.