FIREWALL: Ford Is Back In Action
FIREWALL
(hostage thriller)
Time: 104 mins
Rating: * * *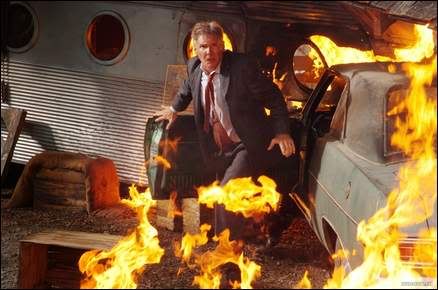 TERRORISTS tried to take over his aircraft in the 1997 action thriller, Air Force One. Now, the bad guys are holding his family hostage and forcing him to break into the bank where he works and transfer US$100 million into their account.

Yeah folks, Harrison Ford is back in action as Jack Stanfield, the head of security of a Seattle bank that is about to merge with a larger conglomerate. Jack is not happy with the merger, especially when his new boss (Robert Patrick) takes a 'low priority' view towards security matters. However, one night, after a business meeting with Bill Cox (Paul Bettany), he is shocked to find that this guy is the leader of a high-tech robbery gang who have taken his family hostage.

The ruthless Bill Cox has turned his seaside mansion into their 'command centre' and forced his wife Beth (Virginia Madsen), daughter Sarah (Carly Schroeder) and son Andrew (Jimmy Bennett) to help them. To keep his family alive, Jack must break into the computer system of his own bank and 'rob' it.

Of course, this type of plot entails a match of wits between the harried Jack and the cocky Bill, who seems to be having the upper hand. Bill has done his homework well. He knows the daily routine of Jack's family and even their medical history. However, it is strange that Bill is totally unaware of the bank's merger and that Jack does not have access to the customer data that he needs to rob the bank with.

No, screenwriter Joe Forte and director Richard Loncraine do not mean for Firewall to be a tussle between two computer geeks. That would be confusing and boring for those unfamiliar with computer lingo. Firewall is an action thriller and ultimately, the problem is solved by brute force — with Ford doing another Indiana Jones or Jack Ryan (read Patriot Games) type of rescue.

This is evident in the casting of Mary Lynn Rajskub who stole our hearts as computer expert Chloe in the TV suspense series 24. Here, Rajskub plays Jack's faithful secretary Janet, who risks her life to help her boss turn the tide on the robbers. And as expected, she has the audience eating out of her hand again in a trademark role. Other cast members, like Madsen and the 'children', turn in credible performances in rather undemanding roles, while Alan Arkin and Robert Forster are forgettable as the head of Jack's bank and a law-enforcement friend.

As a February release — the time of year when the major distributors palm off the 'less-promising' films — Firewall is way above average in terms of entertainment, tension and thrills.