MEMOIRS OF A GEISHA: A tale of Forbidden Love
MEMOIRS OF A GEISHA
(drama)
Time: 136 mins
Rating: * * * 1/2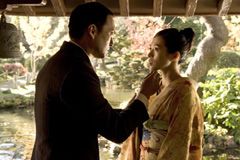 THE sensual and secret world of the geisha has always intrigued and fascinated the non-Japanese. From books and travel brochures, we have been made to understand that the geishas are 'ladies of the arts' instead of 'ladies of the night'. They are for entertainment, not for sex, they insist.

Can this be for real? It was this worldwide fascination that turned Arthur Golden's 1997 novel into an overnight success. His Memoirs Of A Geisha had been on the New York Times Bestseller list for more than a year since it was published, selling more than half a million copies. Golden took more than 15 years to complete the book and he had to dump the first draft, which was written in the third person.

He then met and interviewed a real geisha and wrote another draft which he had to junk again in favour of a first-person account. The thinly-veiled biography is pure fiction but many readers called him, wanting to know how they could get in touch with Sayuri the geisha.

Naturally, the novel would make a great movie and producer Steven Spielberg was set to direct before he declined and picked Rob Marshall (of Chicago fame) for the job. I must say Marshall has done a fine job of translating Golden's vision on to the big screen. The movie may not have cultural nuances of the book but it makes up for it in lush exotic sets and soap-operatic approach.Also, I have nothing against its non-Japanese cast led by Chinese heart-throbs Zhang Ziyi, Gong Li and Malaysia's Michele Yeoh who are obviously the box-office lure.

The movie opens, circa 1929, with an impoverished fisherman selling off his two daughters. The eldest, Satsu, is sold into prostitution, while nine-year-old Chiyo (Suzuka Ohgo) is accepted by an okiya (geisha house) where she will work as a servant until they find her elegant enough to be a geisha. At the okiya, Chiyo befriends fellow servant Pumpkin (Youki Kudoh) but incurs the wrath of Hatsumomo (Gong Li), the top geisha at the house.

However, a chance meeting with 'The Chairman' (Ken Watanabe) seals her future when she gets to train under Mameha (Michele Yeoh) who happens to be at loggerheads with Hatsumomo. The Chairman takes a special interest in Chiyo and she falls in love with him. But love is definitely a luxury a geisha cannot afford to indulge in — and this is the main theme of Golden's book.

Detractors, especially western critics, have complained that the male characters, like The Chairman, are not properly developed. What they should realise is that in the world of the geisha, the clients' identities are never divulged. Also, sex is always hushed up and spoken of figuratively in terms of 'eels and caves'. Among the leads, Zhang, Yeoh and Gong Li give a good account of themselves but it is the spunky Suzuka Ohgo (as young Chiyo) who steals the show and melt our hearts. Memoirs should delight fans of Asian movies.