WALLACE & GROMIT: CURSE OF THE WERE-RABBIT
WALLACE & GROMIT: CURSE OF THE WERE-RABBIT
(animated drama)
Time: 85 mins
Rating: * * *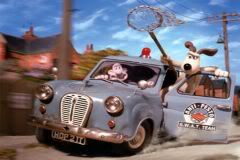 AFTER Tim Burton's Corpse Bride, we have another entertaining stop-animation flick about an absent-minded inventor and his faithful dog. The Wallace & Gromit series is not new. Created by British animator, Nick Park, the Plasticine (modelling clay) characters first thrilled children with a tale called A Grand Day Out in 1989. In 2000, Park and co-director Peter Lord took time off from the series to give us Chicken Run. So far, there has been six more instalments of Wallace & Gromit, including this Curse Of The Were-Rabbit.

Set in a small town in England, this episode sees Wallace and Gromit running a new business — a pest-control company called Anti-Pesto which protects the folks' vegetables from pesky rabbits.
And since it is the season for the annual Giant Vegetable Competition, Wallace (voice of Peter Sallis) and his pet dog are terribly busy catching the furry critters.

Wallace's Anti-Pesto is not an outfit that kills bunnies. He adopts a more humane way of capturing the pests with a contraption called the Bunny Vac 6000 and keeping them in his basement menagerie. Lady Tottington (Helena Bonham Carter), the hostess for the competition, is the chief advocate of Wallace's humane removal of the animals, but the sniveling Lord Victor Quartermaine (Ralph Fiennes) prefers to shoot them all.

Lord Victor dreams of marrying Lady Totty and get his grubby hands on her ancestral wealth. He sees Wallace as a rival. And the toupee-wearing Victor is not someone you would want to mess with... Meanwhile, Wallace decides to invent a device called Mind-O-Matic that would wean the rabbits' craving for fresh produce. However, a lab accident interrupts the invention — and the residents find themselves having to deal with a King Kong-like Were-Rabbit that threatens to wipe out their prize veggies. As usual, Gromit has to play Sherlock Holmes and save the day.

The Curse Of The Were-Rabbit, helmed by Park and Steve Box, also employs a bit of computer graphics, especially in a sequence where the vacuumed bunnies are in free-fall. For me, the most amazing part of the movie are the facial expressions of Gromit. The dog has no mouth yet it speaks volumes just through its spherical eyes. Needless to say, Gromit is the smartest and most lovable character in the entire movie.

The scripters have also thrown in a few hints of British bawdiness but this is done in good fun. Those who like Brit humour will find lots of puns and typical 'stiff upper-lip' gags here. While Corpse Bride fascinated us with its macabre humour, this one has characters we can root for.

# The main feature is only 85 minutes but there is a bonus clip — a short cartoon about the militant Penquins of Madagascar going on a mission to bring cheer to a friend on Christmas eve.