CHEAPER By The Dozen 2: Cheaper by the Sequel
CHEAPER BY THE DOZEN 2
(comedy)
Time: 94 mins
Rating: * * 1/2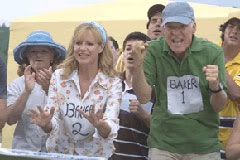 TOM BAKER's dozen are back in a predictable sequel about their summer camp exploits at Lake Winnetka. Its 2003 predecessor, a remake of the 1950 movie starring Clifton Webb and Myrna Loy, was rather cliched and uninspiring — and this one looks as if it is trying to make amends for it with more action and gags.

However, under director Adam Shankman, the comedy looks forced and Steve Martin is easily upstaged by a mouse and a young actress named Alyson Stoner. Martin reprises his role as Tom Baker who plans a summer vacation as a reunion for his clan at the scenic lake outside Toronto, Canada. From the word 'go', things start to go wrong and we get a series of 'wrecking crew' gags, one of which involves a thieving mouse.

Tom's plans for family bonding goes awry when he bumps into the Murtaughs, another big family who are also vacationing at the resort. Jimmy Murtaugh (Eugene Levy) is Tom's former high school mate and arch-rival. Jimmy has eight children but his prized 'possession' is his young trophy wife, Sarina (Carmen Electra). No, Tom does not envy Jimmy having a trophy wife; he just cannot stand the fact that Jimmy is more 'successful' than he is, and he wants to show him that the Bakers can beat the Murtaughs — at least at the camp competitions.

Tom starts training his kids. And the kids, who have their own agenda, start to rebel.
Meanwhile, 13-year-old Sarah Baker (Stoner), the Tom-boy of the family, is beginning to notice boys and when she is asked on a date by Eliot Murtaugh (Taylor Lautner), we have a neat subplot that all youngsters in the audience can identify with. Well, which girl would forget her first experience with make-up, the first date, how her parents would wait up...?

Bonnie Hunt is also back as Ma Baker and so are Hilary Duff and Piper Perabo as Lorraine and Nora, respectively. Perabo, who plays a pregnant Nora, provides the sequel with a little Parenthood twist at the ending. And, surprisingly, Electra gets to play a stepmom who really cares for her husband and his children.

The responsibility of churning out the laughs falls mostly on Martin and Levy who are having a 'rematch' here after their 'face-off' in Bringing Down The House (2003). But there is nothing solid in the script for them to work on here. Shankman and screenwriter Sam Harper rely mostly on slapstick and destructive 'crash gags' that may get only a few giggles from the kids. These Baker Boys and Girls are anything but Fabulous.