PRIDE & PREJUDICE: A Must For Romantics
PRIDE AND PREJUDICE
(romance)
Time: 128 mins
Rating: * * * 1/2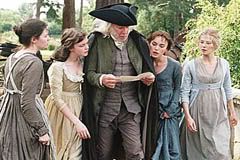 THOSE who love romantic intrigues will find this adaptation of Jane Austen's 1813 novel riveting and even fascinating. Directed by Joe Wright, from a screenplay by Deborah Moggach, this British production captures the very heart and soul of Pride And Prejudice, arguably the best of Austen's novels.

The cast of accomplished veterans and young actors, led by Keira Knightley, are a sprightly bunch who fleshed out their roles with relish. Pride And Prejudice is primarily about the Bennet family for whom marriage is not just about romance but a means of survival. Asked why Mrs Bennet (Brenda Blethyn) is so obsessed about wedding off her daughters, she replies: "When you have five daughters, the business of my life is to get them married."

To her, the universally acknowledged truth is that "a single man in possession of good fortune, must be in want of a wife." So when she learns that her new neighbour, Charles Bingley (Simon Woods), has an income of four or five thousand pounds a year, she sets her sights on matching him up with her eldest, Jane (Rosamund Pike).

Mrs Bennet manages to bring Jane and Bingley together at a local dance, and sure enough, they fall in love. However, things are rather different between her second daughter, Elizabeth (Knightley), and Bingley's friend, Fitzwilliam Darcy (Matthew MacFadyen), a wealthy landowner. Both Elizabeth and Darcy are stubborn and self-opinionated, and she finds him arrogant but interesting.
Elizabeth's acquaintance with dashing soldier Wickham (Rupert Friend), a childhood friend of Darcy, does not help improve her opinion of Darcy either — until Wickham runs away with her 15-year-old sister Lydia (Jena Malone).

Yes, first impressions are almost always wrong and as Lizzie learns more about Darcy, we root for them to kiss and make up. Austen's book has several subplots but Wright and scripter Moggach have either condensed or eliminated them to concentrate on the relationship between Lizzie and Darcy. The subplot about the 'unsuitable suitor' Rev Collins (Tom Hollander) offers a neat contrast to the main thread and even a little comic relief, especially with Dame Judi Dench in a cameo as Collins' benefactor, Lady Catherine.

Donald Sutherland plays the kind Mr Bennet, a father whose concern for his girls' happiness outweighs that of financial design. Still, this is Knightley's movie and she exudes charm and confidence as the sassy Lizzie. MacFadyen is more subdued but there is definitely chemistry between them. This is TV director Wright's first feature and he even employs Bollywood devices like a quarrel in the rain to 'wash' away the couple's differences. A must for love story fans.