WEEKEND PIC July 13-15
Your Guide To The Weekend Viewing:

1. DIE HARD 4.0 (action thriller with Bruce Willis, Justin Long and Maggie Q) Rated: * * * 1/2 (out of 4): It looks like the Die Hard franchise is getting a new lease on life with spectacular stunts and an engaging story. And don't you just love those chippy lines?

2. HARRY POTTER & THE ORDER OF THE PHOENIX (with the usual cast and Imelda Staunton) Rated: * * 1/2 (2.5 stars): As far as Potter's adventure goes, this sequel delivers. However, the charm and magical delights of the earlier films are missing in this equally dark tale about another clash with 'You-Know-Who'.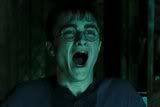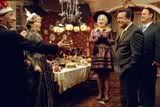 Daniel Radcliffe as Harry; and a scene from 'For Your Consideration'

3. TRANSFORMERS (sci-fi action with Shia LaBeouf, Josh Duhamel, Jon Voight and Megan Fox) Rated: * * * (3 stars): It's 'Bayhem' time and those who grew up on Transformers toys and the TV series would definitely relive their fantasies in this testosterone-fueled actioner that also transforms from one genre to another.

4. FOR YOUR CONSIDERATION (satirical comedy with Parker Posey, Catherine O'Hara and Eugene Levy) Rated: * * * (3 stars): This is probably one of the best of Christopher Guest's 'mockumentaries' - about how rumours of an award-winning performance rattle a movie's cast and crew. Many nice touches and witty lines. (Only at Cathay's PictureHouse in Damansara).

5. KIDNAP (crime thriller with Rene Liu, Karena Lam, Cheung Chilam and Cheung Siu Fai) Rated * * 1/2 (2.5 stars): A kidnap thriller with the requisite twists and turns but spoilt by lame dialogue and numerous plot gaps.