TALLADEGA NIGHTS: Typical Will Farrell Schtick
TALLADEGA NIGHTS (racing comedy)
Cast: Will Farrell, John C. Reilly, Leslie Bibb, Amy Adams and Michael Clarke Duncan
Director: Adam McKay
Time: 95 mins
Rating: * * (out of 4)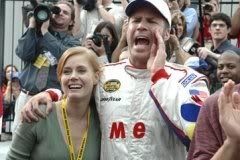 WHAT'S THE BIG DEAL? Just like NASCAR racing, Talladega Nights is a typical and stereotyped American comedy. And when we say 'typical American comedy', we mean that it 'glorifies stupidity' rather than satirise or spoof its intended subject. The intended subject is, of course, the American pastime of stock car racing which has become the second most popular professional sport in the US in terms of TV ratings – after the National Football League. Now, if American Pie was a spoof on US college kids, dare we consider Talladega Nights a spoof on the National Association of Stock Car Auto Racing (NASCAR)? Do we see stabs at race sponsorships, at its overzealous fans and America's obsession with fast cars?
Apparently not. Scripters Will Farrell and Adam McKay (who also directs) use the proverbial kid's gloves in their parody of NASCAR. They seem afraid of offending its huge fan base who are the movie's potential audience. Instead, the gags (a few hits but mostly misses) are aimed at its cast of unrealistic and overly clownish characters.

WHAT'S IT ABOUT? Farrell is Ricky Bodoh, oops, Ricky Bobby, a speed freak who believes that 'if you're not first, you're last'. This credo helps Ricky and his partner Cal Naughton Jr (John C. Reilly) to win many races and product endorsements – as well as a sexy wife (Leslie Bibb) for Ricky. However, their luck runs out when a French F1 driver (Sacha Baron Cohen as Jean Girard) enters the fray. A nasty crash puts an end to Ricky's racing days – and he ends up going back to Momma (Jane Lynch) and Papa (Gary Cole). Now, Papa is a former race driver as well and he soon puts Ricky back on track, a'la Pat Morita in Karate Kid. I wouldn't say that the climactic race at the end is predictable, since the writers have gone all out for an unconventional ending. Let's just say that it is an utterly ridiculous one that could only have come from Saturday Night Live, Farrell's showbiz alma mater.

HIGHLIGHTS: If you have seen the trailer of this movie, you would have seen most of the film's better gags. Those that remain are the usual Farrell farces and some tasteless gay gags which our censors have taken out.

LOWLIGHTS: Yes, Talladega Nights seems to mark the saturation point of Farrell's comedic abilities. After Old School, Elf, and Anchorman, Farrell seems to have run out of steam and is resorting to recycled jokes. Why, he is even upstaged by the relatively-unknown Amy Adams (as the mousy Susan) whose pep-talk sequence in a restaurant reminds us of Meg Ryan's famous orgasm scene in When Harry Met Sally. Gary Cole is way over-the-top here while Michael Clarke Duncan is a welcome sight as the leader of Ricky's pit crew. (Also, watch out for director McKay in a cameo as the slovenly race driver at the start of the movie).

THE LOWDOWN: Talladega Nights need not mean 'good night' to Farrell's comedy career. He just needs to reinvent himself and find better material to work on, just as Ricky Bobby has done.