Your WEEKEND PIC (Sept 29 - Oct 1)
(A guide to help you plan your cinema-going)

1. THE DEVIL WEARS PRADA (comedy with Meryl Streep and Anne Hathaway) Rated * * * (out of 4): Just watching Streep as the Cruella De Vil of the fashion world is worth the price of the ticket to this witty, biting satire. A delight for most women.

2. MIAMI VICE (crime thrilla with Colin Farrell, Jamie Foxx and Gong Li) Rated * * * (3 stars): This screen version of the 80's TV series rocks and sizzles with fast, explosive action and steamy love scenes. Too bad, our Censors also came in for a piece of the action…

3. THE BANQUET (Chinese rendition of Shakepeare's Hamlet with Zhang Ziyi, You Ge and Daniel Wu) Rated * * * (3 stars): Ever attended a feast where everything looks good and stylish but the food is not that filling or fulfulling? Well, this movie is somewhat like that, beautiful yet detached....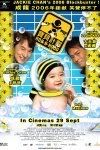 4. ROB-B-HOOD (Cantonese comedy with Jackie Chan, Louis Koo and Michael Hui) Rated * * * (3 stars): Jackie takes a change as a hood who kidnapes a baby and gets a attack of conscience. Typical Jackie flick but with emotions added.

5. D.O.A: DEAD OR ALIVE (adapted from the videogame, this one stars Devon Aoki and Jaime Pressly) Rated: * * ½ (2.5 stars): DOA is all about T and A. And if you still don't know what it is all about, please read the review below. Cheap adolescent fun.