S'KALI: Promising Effort by a Young Director
S'KALI (local drama in English)
Cast: Davina Goh, Jayaram Nagaraj, Derek Ong, Angeline Rose and Zimy Rozan
Director: Arivind Abraham
Time: 90 mins
Rating: * * (out of 4)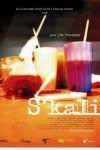 PREAMBLE: Before I get on with the review, I wish to declare certain aspects of my 'involvement' with the cast and crew of this movie. I hope this will dispel notions of biasness in my comments. First, I have known writer-director Arivind Abraham since he was a teenage student and a writer for the Young Reviewers column in The Malay Mail a few years ago. Davina Goh, a cast member, was also a writer for the same column. The S'kali project was the teamwork of Abraham's group of friends, which included my son Jason, who serve as associate producers. Lastly, some parts of the movie were shot in front of my house but without any participation on my part.

WHAT'S IT ABOUT? S'kali is the story of five close friends who have to grapple with the changes that confront them as they each go their separate ways in pursuit of their careers. It is also about one of the characters' attempt to make a movie about their friendship – and S'kali opens as this movie is being screened.
Flashbacks take us to the ubiquitous mamak shop where Ravin (Jayaram Nagaraj), Sze Huey (Davina Goh), Tzao (Derek Ong), Tehmina (Angeline Rose) and Bahir (Zimy Rozan) gather regularly to catch up with one another. Ravin is writing a script for his first movie; Sze Huey, a journalist-wannabe, is writing for an online publication; Tzao is waiting for a scholarship to study overseas; Bahir is an aspiring musician hoping to get a break into the industry, while Tehmina is so overcome by family problems that she drowns herself in liquor which she hides in a flask.
Soon, love, confusion and disillusionment develop. Sze Huey and Ravin become an item and face racial prejudices; Bahir has always to wrestle with Tehmina's drinking problem – and Tzao just broods about an unfair system, taking out his frustrations on Bahir.

HIGHLIGHTS: Thematically, the problems these youths face are universal and most people in the audience should relate to them. That's one up for "S'kali". Next, the cameo by the Mawi-obsessed Jason Lo (as himself) provides a few hearty laughs – and the New Year's Eve appearance by film-maker Yasmin Ahmad (as herself) has some useful insights into script-writing, even if the scene looks rather contrived and out of place. (Like, how often does one have a Guiding Angel who appears out of the blue to set one back on track?)
However, the main cast put up a reasonably good show, playing themselves mostly. Davina Goh and Jayaram are particularly strong in the romantic scenes, while Jay Menon provides comic relief as Ravin's brother Kumar.

LOWLIGHTS: The most biting criticism of the movie comes from one of its characters (Sze Huey) who says that the script is "all talk but not much action". Indeed, most of the events happen off-screen and are only related in the dialogue. We learn of Tehmina's alcohol problem but never get to see even a bottle of the said liquor. Next, when the problematic Tehmina is confronted by a 'groper', it happens so casually that we can't feel the danger she is facing.
And most unfortunate is when Abraham squanders the chance for 'high drama' in a tragedy that befalls one of the friends. Again, we never get to see what really happened and therefore we could not feel the group's sense of loss.

THE LOWDOWN: For a first-time effort, "S'kali" is passable and even promising when we consider the many social themes that the 23-year-old director tries to encompass. And of course, this being a digital 'E-format' movie, viewers have to overlook the grainy images on the screen.