LITTLE MAN: Goo-goo, gasp, gasp!
LITTLE MAN (comedy)
Cast: Shawn Wayans, Marlon Wayans, Kerry Washington and Tracy Morgan
Director: Keenen Ivory Wayans
Time: 100 mins
Rating: * ½ (out of 4)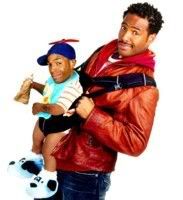 PREAMBLE: Just when we thought the Brothers Wayans could not go any lower in their comedies after White Chicks, we get a more vulgar burlesque in the form of Little Man. This is merely a one-joke comedy expanded over one-and-a-half hours. It works on the conceit that 'crass is cool' and as long as there is a college youth market that their comedies can (breast)-feed on, they will continue making them.

WHAT'S IT ABOUT? Calvin Sims (Marlon Wayans) is a 2.5-foot midget who teams up with his buddy Percy P (Tracy Morgan) to rob a jewellery store of a large diamond. The duo are actually working for local kingpin Mr Walken (Chazz Palminteri) but when the heist goes awry, Calvin has to stash the loot in the handbag of passer-by Vanessa Edwards (Kerry Washington).
Now, Vanessa and her hubby Darryl (Shawn Wayans) are a loving yuppie couple eagerly trying to start a family. When the gem thieves learn of Darryl's impatience to be a dad, Calvin agrees to pose as an abandoned baby left outside their front door. The plan is to get into the house, grab the diamond and run. And guess what? Darryl takes the bait, convincing Vanessa that he is just practising to be a dad 'only for the weekend' before they return it to the Department of Child Services. However, Vanessa's father (John Witherspoon) smells a rat and tries to keep an eye on the belligerent Calvin.

WHAT'S THE BIG DEAL? This one-joke caper allows director Keenan Ivory Wayans to 'accessorise' – throwing in infantile gags about breastfeeding, anal thermometers, sexual organs and even a way-over-the-top football game. Really, can we expect the Wayans to ignore any chance for a boob gag or a fart-and-poop situation? After all, these are the stock ingredients of their comedies and they are pretty good at it by now.

HIGHLIGHTS: One thing we can really marvel at is the seamless CGI way that shots of Marlon's head are 'attached' to the body of a kid named Linden Porco. I had tried to look for the 'digital joints' but could not find any.

LOWLIGHTS: Most of the comic situations are predictable because there are only a few twists and turns that one can take where a midget posing as a baby is concerned. A handful of them are funny enough to generate giggles while most are just infantile or downright stupid.

THE LOWDOWN: If you can accept the fact that a yuppie American couple can mistake a midget for a baby, then you deserve to waste your time on Little Man. If you can't, just wait for a similar conceit in Jackie Chan's Rob B Hood and hope that it won't be as intellectually-challenged.