JUST LIKE HEAVEN: Reese Goes Clinically Blonde
JUST LIKE HEAVEN
(romantic comedy)
Time: 95 mins
Rating: * * 1/2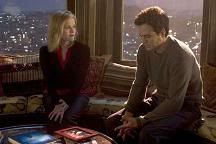 REESE Witherspoon goes from Legally Blonde to Clinically Blonde in this whimsical love story that is all sweetness and fluff. She plays Elizabeth Masterson MD, a workaholic doctor who pulls off 26-hour marathon shifts in the Emergency Ward at a San Francisco hospital.

Subsisting primarily on coffee and snack food, the single woman has no life outside the hospital. No family, no hobby, no boyfriend. When a friend offers to fix her up with a date, she counters: "I'm perfectly capable of meeting men on my own."

"I know you are. I just want you to meet one that's not bleeding," says the friend. Urged to go home by a caring superior, Elizabeth is driving home to prepare for her blind date when she crashes into a truck. Weeks later, her apartment is being sublet to landscape designer David Abbot (Mark Ruffalo) who seems to have fallen in love with the place, especially the couch. After the death of his wife, David has taken to drinking and slouching and now he is making a mess of the apartment.

He must have thought that the alcohol is playing tricks on him when he sees an angry Elizabeth in the bathroom, asking him: "What are you doing here?" He asks her the same question.

Is the movie going the way of Ghost and All Of Me? It seems like that at first, especially when David realises that he is the only one who can see Elizabeth and that she can go through walls and doors. What happens next is for David to come to terms with having a 'ghost' follow him around and nagging him about messing up the place.

Basically, this is director Mark Waters' attempt to suggest the inevitable — that they are falling in love with each other. However, there are not many situations in the script for romance to flourish although Witherspoon and Ruffalo are paired off well here. Witherspoon is both lovable and funny while Ruffalo's sad-faced passivity provides an ideal foil for her little 'tantrums'.

Throughout the movie, I was imagining what it would be like if Meg Ryan were to play the lead.
Supporting them in comic relief roles are Donal Logue as David's friend and therapist. He has the best one-liners, while Jon Heder plays David's psychic bookstore assistant and spiritual guide who offers a hint about the plot twist.

Just Like Heaven is adapted from a novel by Frenchman Marc Levy. The twist at the ending makes the whole tale look pretty illogical. But then since when has logic ever come into play in fantasy romantic comedies?