INTO THE BLUE
INTO THE BLUE (adventure)
GSC and TGV circuits
Time: 109 mins
Rating: **

FIRST, let me sing some praises for this underwater adventure that seems destined for the video rental stores. The underwater photography is breath-taking and the scenic locations in the Bahamas are gorgeous.

There is a National Geographic feel about the scenes, especially in the shots of coral reefs and best of all, Jessica Alba, arguably the starlet of the year, looks ravishing in her bikini. The opening scenes of the well-tanned and shapely Alba frolicking in the water looks as if she has just wandered in from a modelling shoot for Vogue magazine.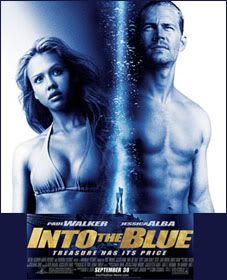 It should delight all her fans.And then the infantile plot kicks in and I have to sing the blues...Sam (Alba) and Jared (Paul Walker) are a loving couple trying to eke out a living in the Bahamas. She is a shark-trainer at an ocean park and he is a dive instructor and part-time treasure hunter, hoping to make it big one day. That day arrives when Jared's lawyer buddy, Bryce (Scott Caan), comes for a visit with his new girlfriend Amanda (Ashley Scott).

While out scuba diving, the four find two kinds of treasure in roughly the same area: An ancient sunken ship called The Zephyr, and a downed airplane with a huge cache of cocaine! Sceptics in the audience may question the odds of such things happening — especially in what seems like just 10 metres below sea level. But then these are nothing compared to the utter silliness that follows.Jared views the sunken ship as his ticket out of poverty but they must first 'register' the find and invest in salvage equipment.


Bryce sees the drugs in the plane as a solution to all these problems, and he sells a packet of the 'coke' — to a guy (James Frain) who happens to be the owner of the sunken drugs.Of course, soon the proverbial hell breaks loose and we get the long-awaited chases and action which seem to have been scripted and choreographed by an amateur.

The plot is never convincing because none of the stars can act. Alba has appeared in three movies this year (the previous two being Sin City and The Fantastic Four) but mainly in eye-candy roles. Here, her weakness is more apparent because director John Stockwell had obviously not bothered about the cast's performance. Walker seems to be 'modelling' his role as the good guy, while Scott Caan has a juicier one as the reckless and greedy lawyer. Ashley Scott can only be remembered for her topless sunbathing scene.