CORPSE BRIDE: Just the film for Halloween
TIM BURTON'S CORPSE BRIDE
(stop-motion animation)
Time: 78 mins
Rating: * * *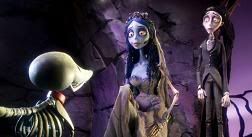 CAN the dead in the netherworld be having more fun than the living? This is the impression we get from Corpse Bride, another stop- motion feature by Tim Burton.

The world of the living, circa 19th Century, is dark, dank and drab — with most of its colour drained away. Greenery is scarce and the folks appear either sad, sombre or scheming. The world of the dead, on the other hand, is lively, cheery and a lot more colourful. The cadavers eat, drink and party all the time — with narry a thought for their health or other consequences.

Caught between these two worlds is Victor Van Dort (voice of Johnny Depp), a young man whose social-climbing parents (Tracey Ullman and Paul Whitehouse) have arranged for him to marry Victoria Everglot (Emily Watson), daughter of impoverished aristocrats Maude- line and Finnie (Joanna Lumley and Albert Finney).

This union is expected to provide Victor's family with a touch of class — and Victoria's parents with money. Victor and Victoria have never met before but when they are introduced at the wedding rehearsal, they are surprised to find that they actually like each other.
Victor, however, is so shy and nervous that he cannot remember the wedding vows. Fleeing to a church's graveyard to practise his vows, he gets so carried away that he places the ring on a twig.The twig is actually the desiccated finger of Emily the Corpse Bride (Helena Bonham Carter) whose arm is reaching out from the grave waiting for her husband.

Unwittingly, Victor has married the lovelorn Emily — and soon they find themselves celebrating their union with jolly skeletons and corpses and dancing to a score by Danny Elfman. Above ground, the parents are worried about the missing groom and the money-grabbing Everglots have consented to have Victoria marry the sleazy Barkis Bittern (Richard E. Grant).

Corpse Bride is not the macabre horror tale as its title suggests, but a touching and visually rich tale of love lost. The characters are nicely developed and surprisingly, there is a sense of tenderness to the tale.

Burton and co-director Mike Johnson have fashioned Emily as a strong but pathetic figure who had been murdered at her own wedding and she now sees Victor as a better match.
The movie is also a tribute of sorts to stop-motion animator Ray Harryhausen — whose name is 'immortalised' on the nameplate of a piano in the movie.

The film-makers have included some deft lines and vitriolic humour which should tickle our funny bone. Yes, there are plenty of eye-popping, jaw-dropping and bone-crunching scenes which should make for a perfect Halloween treat for the whole family.