WEEKEND PIC June 15 - 17
Your guide to the weekend viewing:

1. OCEAN'S THIRTEEN (crime drama with George Clooney, Matt Damon and Brad Pitt) Rated * * * (out of 4): Ocean's gang are out for revenge against a crafty casino owner in this 'trequel' that simmers a lot but lacks sizzle.

2. PIRATES OF THE CARIBBEAN: AT WORLD'S END (fantasy adventure with Johnny Depp, Orlando Bloom and Keira Knightley) Rated * * * (out of 4): This 'trequel' of the POTC franchise is, as expected, full of thrills and spills. With so many subplots and twists in its 168-minute footage, however, it is a bit tough on our butts.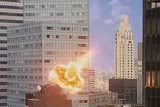 3. FANTASTIC FOUR: RISE OF THE SILVER SURFER (sci-fi thriller with Michael Chiklis, Ioan Gruffudd, Chris Evans and Jessica Alba) Rated * * (2 stars): After the initial chase scene with the Silver Surfer, everything seems to go downhill with this disappointing sequel - with lame dialogue and prolonged build-up and little in terms of pay-off.

4. SHREK 3 (animated comedy with the voices of Mike Myers, Cameron Diaz, Eddie Murphy, Antonio Banderas and Justin Timberlake) Rated: * * 1/2 (2.5 stars): This third instalment continues the saga of the green Ogre who discovers that he is now heir to the throne and that he is gonna be a dad! Despite repetitious gags, it is still a fun movie.

5. THE NAMESAKE (drama with Kal Penn and Zuleika Robinson) Rated * * * (3 stars): A tender, touching drama by director Mira Nair about an Indian-American lad named Gogol who grows up in New York, torn between two traditions.