PIRATES OF THE CARIBBEAN: At WORLD's END - Yo-ho-ho time Again
PIRATES OF THE CARIBBEAN: AT WORLD'S END (fantasy adventure)
Cast: Johnny Depp, Orlando Bloom, Keira Knightley, Geoffrey Rush and Chow Yun-fat
Director: Gore Verbinski
Time: 168 mins
Rating: * * * (out of 4)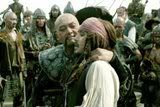 WHAT'S THE BIG DEAL? Avast there, all ye swabs! It's swashbuckling time again with Capt Jack Sparrow and his pirates of the Caribbean. It's the summer blockbuster most of us have been waiting for, isn't it?

WHAT'S IT ABOUT? Since this instalment was shot back-to-back with "Pirates 2", the action opens right smack in the lair of Singapore pirate Capt Sao Feng (Chow Yun-fat) where we find Will Turner (Orlando Bloom), Elizabeth Swann (Keira Knightley) and Capt Barbossa (Geoffrey Rush) persuading the Oriental buccaneer to join them in their quest to rescue Jack (Johnny Depp) from his mind-altering imprisonment in Davy Jones' Locker.
The slippery Sao Feng happens to have the chart to the World's End where Jack is trapped – and there is no time to lose as Lord Beckett (Tom Hollander) of the East India Company (EIC) and Davy Jones (Bill Nighy) himself are hot on their tail.
Other attractions in this sequel, originally modelled after the Disneyland ride, include the convening of a Brethren's Court of the world's nine pirate lords; the 'resurrection' of the mythical sea nymph Calypso; the usual betrayals and treacheries; plus lots of sea-battle showdowns among Jack's ship, the Black Pearl, Davy Jones' Flying Dutchman and the vessels of the EIC.

HIGHLIGHTS & LOWLIGHTS: POTC fans who are looking for special effects thrills and spills will not be disappointed as director Gore Verbinski seems to have put every dollar of his US$300 million (RM1.05 billion) budget to good use. Yeah, the scripters have left no coral unturned to explore and expose every pirate and sea-faring myth and legend. The computer-generated visuals, like the army of rock-like crabs and raging storms, just boggle our minds. Indeed, there is so much to marvel at that some times, when the movie goes into its narrative mode, we lose the 'wow factor' effects and feel the drag.
Verbinski has no less than 15 plot-lines to thread through and they can get rather tedious to sit through and confusing to keep track of. Don't be surprised if you find your mind wandering from the proceedings halfway through the action. There is only so much fun that we can digest in those butt-numbing 168 minutes.
Also, I can't help thinking that Verbinski has targeted this sequel to coincide with Father's Day celebrations (in June) as some of the plot lines involve the paternal relationships of the leads. Will Turner, for example, reveals a secret quest to rescue his father (Stellan Skarsgard) from the clutches of Davy Jones'; Elizabeth casts a life-line to her late Dad (Jonathan Pryce) at World's End; and Jack finally meets his Old Man Teague (the controversial Keith Richards of The Rolling Stones) who somehow ends up strumming a guitar (for no conceivable reason).
Among the cast, Chow Yun-fat stands out as the newcomer to the franchise but he is in no way outstanding. He is allowed to ham his way through the proceedings. Depp, as usual, is fun to watch as he slurs his lines and struts his way around. Knightley, who gets more screen time in this instalment, only manages to show her limitations as an action star: pretty to look at but difficult to root for. However, the most memorable supporting star award goes to the little monkey who gets the laughs every time it appears.

THE LOWDOWN: Watching this 'three-quel', we have no doubt that Verbinski and crew are still passionate about their yo-ho-ho franchise. There is already talk about a fourth movie being planned. Let's hope that the film-makers don't go overboard with their passion and leave us afloat in a plot-muddle again.