CASANOVA: From Brokeback To Venice
CASANOVA
(Romantic comedy)
Time: 110 mins
Rating: * * *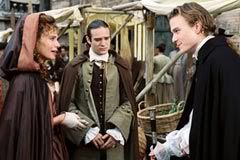 THE name is synonymous with charm, suaveness, seduction — and every quality a man needs to get a woman into bed. We have been told that one does not need to be filthy rich or drop-dead handsome to be a Casanova, but with Hollywood's current heart-throb Heath Ledger in the title role, we can be sure of some farcical intrigues and swashbuckling romps.

Lasse Hallstrom's Casanova, scripted by Jeffrey Hatcher and Kimberly Simi, is set in Venice, circa 1753, in the era of the Inquisition when the church tries to clamp down on fornicators, feminists and philosophers. It is purportedly based on real events in the life and exploits of Giacomo Casanova but we have to take a pinch of salt with that claim.

When the movie opens, we find our randy hero facing deportation from Venice for all of the above mentioned sins. To avoid being sent away, Casanova is advised to take a respectable wife — and he sets his eyes on the famed virgin Victoria (Natalie Dormer). However, as soon as Casanova arranges a marriage deal with Victoria's father, Donato (Stephen Greif), he is attracted to Francesca Bruni (Sienna Miller), a firebrand feminist and writer who despises Casanova and all that he stands for.

Francesca has a brother, Giovanni (Charles Cox), who is in love with Victoria and when Giovanni challenges Casanova to a duel, Francesca (in disguise) takes her brother's place and proves her mettle. This only makes our hero all the more enamoured of Francesca. And when Casanova learns that her widowed mother (Lena Olin) has promised Francesca in marriage to the obese lard trader Paprizzio (Oliver Platt), he masquerades as Fat Papi to court her. Meanwhile, the Vatican has sent its inquisitor, Bishop Pucci (Jeremy Irons), to Venice to nab the infamous Casanova for his crimes against the church!

To get into the mood of the movie, we have to understand that Casanova is known more to the Venetians by reputation than by person. This explains how he can get away with posing as Paprizzio — and the series of mistaken identities and costume balls.

Yes, Hallstrom has injected lots of fun, wit and humour into the proceedings. What is missing, though, are the sex romps and bawdiness that we may expect from this R-rated film. And coming right on the heels of Brokeback Mountain, Ledger gives his role a vibrant energy that is totally different from the gay cowboy he played earlier. And what's more, he displays the same screen chemistry with the delectable Miller as he did with Jake Gyllenhaal. Others like Platt and Irons lend strong support almost effortlessly.