THE SUN ALSO RISES: Art Film Trip
THE SUN ALSO RISES (drama)
Cast: Joan Chen, Anthony Wong, Jaycee Chan, Zhou Yun and Jiang Wen
Director: Jiang Wen
Time: 118 mins
Rating: * * 1/2 (Out of 4)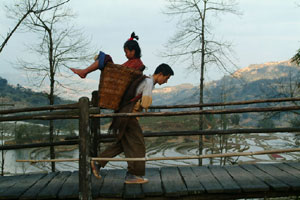 WHAT'S THE BIG DEAL? No, this movie is not based on the Ernest Hemingway book. It is a whimsical drama about Communist China of the 1970s, adapted from the novel "Velvet" by Ye Mi. Under the direction of Jiang Wen, it just defies genre classification. We may call it Jiang's ego-trip into arthouse territory, or a mess. However, it is visually stunning if you can just forget about the narrative and coast along with the flow.

WHAT'S IT ABOUT? There are four segments. The first, entitled 'Madness' is set in a village in Eastern China in Spring of 1976. It is about a young brigade leader (Jaycee Chan) whose work is constantly interrupted by the antics of his widowed mother (Zhou Yun) who collects stones and digs up trees. Confused over his origins, he starts to piece together his background and finds a shrine-like shelter built by his mom in the forest. Segment Two, titled 'Love' is set in Summer at a campus in Souther China. It is about a teacher, Liang (Anthony Wong), who is accused of groping some women at a night movie screening. Lin (Joan Chen), the sexy mistress of Liang's friend, Tang (Jiang Wen), tries to clear him of the charges.

The third segment, 'Rifle', takes us back to the first venue in Autumn where we find Tang and his wife (Kong Wei), being sent to the countryside for 'rehabilitation' under the brigade leader. The last part, 'Dream', is set in the winter of 1958, in the desert of Xinjiang, western China. It works like a fantasy trip to explain the love affair of the brigade leader's mom, and the mystery of 'Alyosha', the Russian soldier she claims is the boy's father.

HITS & MISSES: With its narrative skipping its way through various parts of China, many viewers will get lost and confused, especially for those who are not familiar with life in communist China. Also, the first segment drags a bit, with repetitive sequences but it is still the most engaging of the lot, while the last is the most complex and messy. It is fortunate that Jiang Wen has such a good cast who help to sustain our interest. Jaycee is lovable as the filial kid; Joan chen is deliciously vampish as Dr Lin, the tramp; Anthony Wong is effective as the object of Dr Lin's lust; and Jiang Wen is commanding as the rifle-toting hunter.

The music and soundtrack are top-notch, with composer Joe Hisaishi providing a lively tone and Jiang's visual details adding colour to the film.

THE LOWDOWN: This dream-like odyssey into the era of Red China is basically for art film lovers.