HVO: Alpha Dog, Lord Of War, The Fountain, 3:10 To Yuma, Amazing Grace and You Kill Me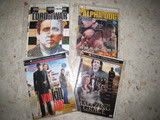 ALPHA DOG (DVD 2006, action thriller)
Cast: Bruce Willis, Emile Hirsch, Justin Timberlake and Ben Foster
Director: Nick Cassavetes
Time: 120 mins
Rating: * * * (out of 4)

THIS unflinching expose on the decadent youths of suburban America will never get past the censors of Malaysia, considering its drug-trafficking and sexual content and that every other sentence has an F-word. The sordid drama is based on the life of Jesse James Hollywood (born in 1980), a drug dealer who became one of the youngest men ever to be on the FBI's most wanted list (he was caught and still on trial).

The name has been changed to Johnny Truelove (Hirsch), the titular wimp who kidnaps the younger brother (Anton Yelchin as Zack) of a debtor (Foster) to ensure repayment. Zack, however, has himself a fine time as hostage, getting to smooch with the gang molls and painting the town red. A tragic twist, however, ends Zack's fun and wrecks the lives of everyone involved. There's fantastic acting from the youngsters, especially Foster and Timberlake as Zack's handler. Warning: Lots of sexual content and nudity.

THE LORD OF WAR (DVD 2006, action thriller)
Cast: Nicolas Cage, Jared Leto and Bridget Moynahan
Director: Andrew Niccol
Time: 122 mins
Rating: * * * (out of 4)

A NO-HOLDS-Barred comedy about gunrunner Yuri Orlov (Cage) and how his business is affected by the politics of the world. Yuri lives in Manhattan with former model Ava Fontaine (Moynahan), who pretends to believe him, when he says he's in the international shipping business. That business takes a turn for the better with the collapse of the Soviet Union and the sudden appearance on the black market of enormous caches of weapons. Luckily, Yuri is related to a now-retired general in Ukraine, and they do business, selling arms to conflicts in Africa.

Engaging and often eye-opening.

THE FOUNTAIN (DVD 2006, drama)
Cast: Hugh Jackman, Rachel Weisz, Ellen Burstyn, Mark Margolis
Director: Darren Aronofsky
Time: 96 mins
Rating: * *

THE movie takes place in three eras: 16th Century, the 21st Century, and the 26th Century. The main plot is in contemporary setting, where drug researcher Tommy Creo (Jackman) is trying to save his wife Izzy (Weisz), who has an inoperable brain tumour. Izzy is writing a book about a 16th Century quest for the Fountain of Youth in New Spain, with Queen Isabel (Weisz) sending a Conquistador (Jackman) to find it. Finally, we are taken to the future where a bald man (Jackman) is taking a space trip with a giant tree.

The movie reminds us of Stanley Kubrick's "2001: A Space Odyssey" but it is over-ambitious and confusing to make an impact like Kubrick did. See it as a love story of a man's desperation to find a cure for his wife's illness.

AMAZING GRACE (DVD 2006, drama)
Cast: Ioan Gruffudd, Romola Garai, Rufus Sewell, Nicholas Farrell, Michael Gambon, Albert Finney
Director: Michael Apted
Time: 110 mins
Rating: * * *

SET in England in the 18th Century, "Amazing Grace" is about MP William Wilberforce's (Ioan Gruffudd) 25-year effort to ban slavery in the UK and its colony in America. His main 'battle field' is the English Parliament where he leads a group of abolitionists against the pro-slavery MPs.

For a movie about politics, it tends to be a bit talky but it has very graphic and savage details about the atrocities faced by slaves in the cargo holds of ships. Also, the cast of established actors shine and Romola Garai provides tender moments as William's wife. Mainly for those who like British epics.

3:10 TO YUMA (DVD 2007, remake of 1957 Western)
Cast: Christian Bale, Russell Crowe, Peter Fonda, Ben Foster, and Gretchen Mol
Director: James Mangold
Time: 120 mins
Rating: * * *

REMINISCENT of "High Noon", "3:10 To Yuma" presents the old Wild West as we know it, with stagecoaches, steam trains and ramshackle towns in the middle of the desert. Rancher Dan Evans (Bale) is hired to escort captured outlaw Ben Wade (Crowe) to the station for the 3:10pm train to Yuma prison. Along the way, Dan faces a whole lot of obstacles including interference by his 14-year-old son, attacks by native Americans, a tempting offer by Wade for his release and rescue attempts by Wade's gang, led by the sadistic Charlie (Foster).

This remake of the 1957 film (starring Glenn Ford) is basically a Bale-Crowe vehicle and the action is secondary to character development and its interplay of moral dilemmas. The ending is far-fetched but heart-rending. TRIVIA: The hero (Bale) in this Western is from Wales, UK, and the baddie's (Crowe) from New Zealand!

YOU KILL ME (DVD 2007, black comedy)
Cast: Ben Kingsley, Tea Leoni, Luke Wilson and Dennis Farina
Director: John Dahl
Time: 92 mins
Rating: * * ½

FRANK Falenczyk (Kingsley) is in a dilemma. As a hitman for his family of Polish mobsters, he drinks to dull his conscience. However, his alcohol habit has taken its toll on him and after botching up on a crucial hit on the Irish mob in Buffalo, New York, he is sent to San Francisco to 'sober up'.

While working as a funeral parlour assistant and grudgingly attending Alcoholics Anonymous meetings, Frank meets Laurel (Leoni) and that's when the going gets cute and funny. Like when Frank opens up with "Hi, I'm Frank and I'm an alcoholic and a hitman…" Throughout the movie, you will be wondering what a woman like Laurel would find in a guy like Frank, but hey, even a killer needs to be loved! And Leoni provides just enough credibility for us to root for the two of them.